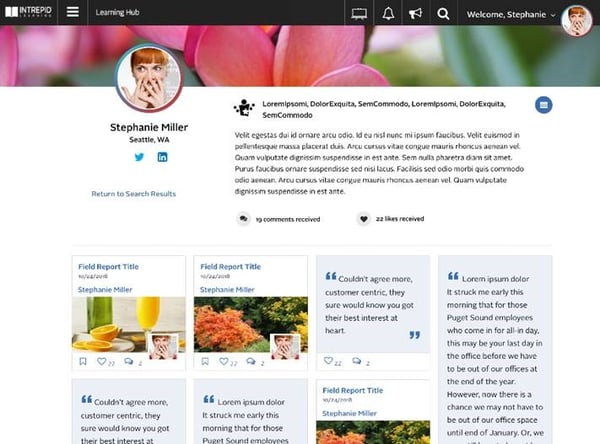 Elegant and intuitive social profiles like this are just part of our new collaborative feature roll out.
We're proud to announce that our latest social features have taken collaborative learning even further, ensuring learners have even more channels to connect meaningfully. Take a look at our recent webcast demo to see for yourself.
When teams are connected and engaged, not only do they more easily share insights and learn better, they perform better. This wisdom is a key component to Intrepid's ongoing collaborative product strategy. Both learners and CLOs are realizing that engaging, social tools are the most effective way to drive impactful online learning in addition to improving work performance in general. A recent study by Ernst and Young examined social roles in the workplace and their effect on workers and the organization at large. The study determined that over 40 percent of "respondents across generations feel isolated or ignored" which contributes to a lack of productivity in addition to other negative emotional factors.
We've been working hard to expand our relevant, collaborative features so the digital learning experience transcends the conventional snoozefest usually associated with conventional eLearning solutions and truly accelerates on-the-job application. Additionally, the new tools we just rolled out continue to build on our legacy of building elegant, fun learning experiences because they're intuitive, visual and truly bring people together.
One of our key, new features - Social Profiles – auto curate user contributions to provide easy insights into each individual's activities to drive contextual, deeper connections. Social Profiles deliver a visually appealing profile so learners and administrators can easily view bios, pictures and interests to gain better insights into who they're peers are and what they've engaged with.
Groups can also now seamlessly link to external material and media within the platform. We've embedded video and third-party websites right on the platform, eliminating external navigation and reducing clicks in the process. The new Smart Search functionality allows users to easily sort and refine searches across the platform.
We're pretty proud of our new tools and how efficiently and effectively they bring teams together to truly deliver on the promise of collaborative learning. Please watch our latest product demo to see these social tools in action and/or let us know if you'd like a demo to dive even deeper into how Intrepid can help with your unique learning goals.
false
LOREM IPSUM
TITLE