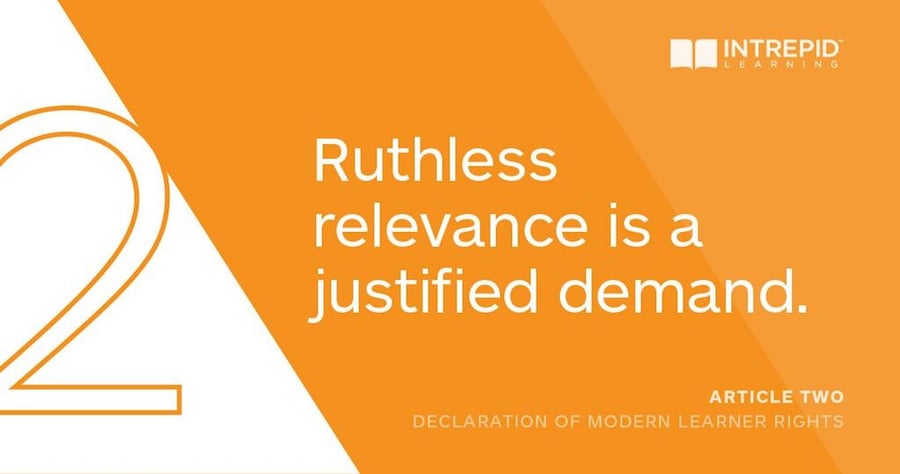 Capital City Bank of northern Florida has a great example of Article #2 of Intrepid's Declaration of Modern Learner Rights in action. One of the (many) problems with compliance training is that you are taught the rules but not the application, not the stories, not the impact of making mistakes—not the ruthless relevance.
I worked in banking for 17 years before coming to Intrepid, and when I was a baby banker, I had to work at a teller window before I could train tellers (great idea, by the way!). One of the most obfuscated and hard-to-learn regulations is Reg CC, which is all about placing a hold on someone's check.
Denise Wilson, CLO of Capital City Bank, puts it this way, "Reg CC is probably the most difficult thing to train. In our live teller school we spent ¾ of a day on this and yet I would still get phone calls from managers saying we didn't do enough training on Reg CC! Even though we were doing live training it still wasn't enough."
So, we added some Ruthless Relevance to Capital City Bank's online learning experience (known as the Teller Hub) around the existing Reg CC e-learning course from the American Bankers Association, which is required to prove that your tellers have been trained on Reg CC. But have they learned Reg CC?
To make sure new tellers had really learned it, we took that mandated Reg CC e-learning course and put it in context. We told a simple story about Priscilla and cousin Larry and that $500 he owes her.
And in 20 seconds you now understand more about Reg CC than I did in my first 2 years in the banking industry! That covered "Why does Reg CC exist" in a way that makes the details of the regulation make sense to the tellers.
The other part of ruthless relevance is "Why should I care?" So we walked learners through what happens if you make a Reg CC mistake. And one of the things that happens at Capital City Bank if you made a mistake on Reg CC is you'll get an email from Rod in retail support. So the Capital City Bank designer took her iPhone and went to Rod's office and shot a one-and-a-half minute video of him explaining what happens when people make mistakes – things that go wrong in real life stories. He had some great stories and it was so much more effective than just repeating back the dry regulations! Because you should know why a law exists in addition to what the law is. Added to that, a Learning path with the 3 key things you really need to know about Reg CC to reinforce the e-learning course's content and boom boom boom, a compliance regulation in context.
"The way that we explain the Teller Hub to people in the bank," says Denise Wilson, "Is it's like our Google. If you need to figure something out, this is our internal google for our tellers. Take another day-to-day example, say the lead teller is on vacation and you need to balance the vault and you've never done it before. You can go into Managing Vault and watch one of our lead tellers show you how in short videos, so you don't have to try to look it up in that big thick manual, and try to interpret the dry words."
Now how's that for ruthlessly relevant?!
false
LOREM IPSUM
TITLE