Leadership Development Cascade to Managers Dovetails the What, the How, and the Why
This exciting leadership development cascade won two CLO Learning in Practice Gold awards and a Brandon Hall Excellence in Learning Silver award in 2016.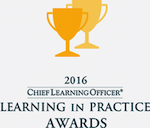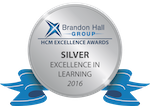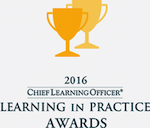 The Challenge
The challenge facing a venerable global consumer goods manufacturing firm: to not only launch a bold strategic plan, but to deliver it to every professional in the company so they understood how to execute it in their everyday jobs, and felt empowered and excited to do so. This company chose the Intrepid platform to deliver the largest portion of their leadership development cascade, placing content from a prestigious business school in context through the platform's collaborative features, short-form approach, and easy administrative back-end.
The program needed to disseminate a powerful movement that would:
Be highly engaging
Foster actionable insights
Encourage learners to challenge each other
Have a clear progression of milestones
Enable both individual learning and team work
Reinforce concepts through real-world applied learning
Motivate learners all the way through the process
Be not just about leadership, but about leadership at this company
Cross all geographic boundaries
Foster open dialog between employees and leaders about the company's strategy and values
Equip leaders to actively lead this change by serving as teachers, mentors and coaches
Ensure that employees understand how their function supports the business strategy and how what they do in their individual roles supports that strategy
The Solution
The executive team didn't just want to "launch" the subsequent phase of their strategic plan, but to truly drive employee adoption of these changes throughout the entire organization. The mission and values statements are incredibly important to the organization, and central to the leadership initiative, so a great deal of context was required to make the third-party academic content really make sense for this company specifically. This was accomplished by wrapping the business school content with company context through additional short-form videos, voice memos and other content, as well as individual and team assignments directly related to their real work.
Learners had the opportunity to self-register for a course that best fit into their schedules, and each course had at least two language options (8 total).
The CEO himself was an advocate of the program, and his vocal support and enthusiasm highlighted, within the course content, the criticality of the culture change the company was working to create. Motivation and prestige were added to the business school's rich content by incorporating recorded video segments from senior executives relating to each module's focus. Company leaders also served as online community coaches by participating in discussion forums for each module, answering questions, pre-recording video segments, providing general support and, most importantly, encouraging learners to complete the program. Intrepid's easy-to-use, intuitive platform made participating fast and easy for busy senior leaders.
The Missions, or real-world assignments, were also entirely about applying the learning to the job. Each module concludes with a mission challenging learners to transition insights gained throughout the course into tangible action, such as a written plan detailing the steps they will take to implement new learning, share insights with their teams, and make real change in their segment.
Discussion forums also centered on real work. For instance, one discussion thread called "What Keeps You Up at Night?" asked employees to reflect on what aspects of the business strategy concern them most. Another Mission example: an assignment to identify a segment- specific problem, how learners can immediately apply new learning in order to solve it, and their resulting recommendation.
The Results
Employees, management, and executives have noted an immediate cultural change in day-to-day approaches based on learners' new understanding of the company's big picture.
In addition, employees rated the program above benchmark:
4.85 of 5 for user interaction/involvement
• 4.81 of 5 for overall effectiveness of the learning approach
This phase of this global consumer goods manufacturing company's leadership development cascade, which reached 800 managers, proved highly successful, driving positive change in day- to-day company culture and behaviors, which in turn will drive growth and support the company's ambitious goals.